Dosen
Profil Sudharno Dwi Yuwono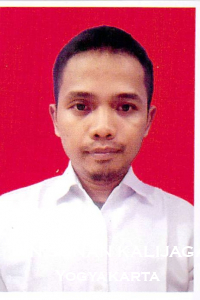 | | | |
| --- | --- | --- |
| Nama | : | Sudharno Dwi Yuwono, M.Pd. |
| NIP | : | 19890520 201903 1 009 |
| NIDN | : | - |
| Program Studi | : | Bimbingan dan Konseling Islam |
| Fakultas | : | Dakwah dan Komunikasi |
| Jenis Pegawai | Status | : | Pegawai Negeri Sipil |
| Jabatan Akademik | Golongan | : | Asisten Ahli | III/B |
| Email | : | - |
| Pendidikan Terakhir | : | - |
Kelas Mata Kuliah Yang Diampu Oleh Sudharno Dwi Yuwono, M.Pd. Di Semester Genap TA 2020/2021
| No | Nama Mata Kuliah | SKS | Jenis MK | Kelas | Jadwal |
| --- | --- | --- | --- | --- | --- |
| 1. | Media BKI | 2 | WAJIB | A | SEN 12:30-14:10 R: FD-410 |
| 2. | Media BKI | 2 | WAJIB | B | SEN 14:20-16:00 R: FD-410 |
| 3. | Media BKI | 2 | WAJIB | C | SEL 12:30-14:10 R: FD-406 |
| 4. | Mikro Konseling | 4 | WAJIB | H | SAB 09:45-12:15 R: FD-403 |
| 5. | Mikro Konseling | 4 | WAJIB | I | SAB 13:15-15:45 R: FD-403 |
#
TAHUN
KARYA
Conference Paper
1
2019
Development Computer Assistant for Evaluation Guidance and Counselling Program .
Dalam Proceedings of the International Conference on Educational Sciences and Teacher Profession.
Dipublikasikan pada www.atlantis-press.com/proceedings.
Diterbitkan oleh atlantis-press.

---

https://www.atlantis-press.com/proceedings/icetep-18/5591554...

Jurnal Ilmiah
2
2020
PROFIL KONDISI STRES DI MASA PANDEMI COVID-19 SEBAGAI DASAR INTERVENSI DALAM PRAKTEK MIKROKONSELING .
Dipublikasikan pada Ristekdik: Jurnal Bimbingan dan Konseling.
Diterbitkan oleh BK UM TAPANULI SELATAN.

---

http://jurnal.um-tapsel.ac.id/index.php/Ristekdik/article/vi...

#
TAHUN
KARYA
Narasumber
1
2020
Manajemen Stres Menhadapai Covid-19 . Pada pertemuan PSKD Webinar Series 2020. Berlokasi di Webinar FDK UIN.